Prenatal Classes-
Tuesdays 7:30PM through 2/27/18
pre-sign up required, limited spaces in a semi private class setting of 1 or 2
Prenatal Pricing: Prenatal singe class $25 ( valid for 1 month). any unused prenatal classes can be transferred to any of the regular yoga classes on the schedule that are non prenatal.

The practice of Yoga can help you prepare your mind and body for labor and birth as this helps you focus, to concentrate and keep you healthy. The Yoga postures are gentle ways of keeping your body active and supple and minimize the common pregnancy symptoms like morning sickness and constipation. It can also help in ensuring easier labor and smooth delivery by relieving tension around the cervix and birth canal and by opening the pelvis. The breathing techniques can also become handy during labor. It also helps in restoring your body shape, uterus, abdomen, and pelvic floor, and in relieving upper back tension and breast discomfort after childbirth. Special care, however, is needed in choosing the Yoga poses that you will practice. Your best bet is to it under a guidance of an experienced yoga teacher.
Non Pre-Natal Classes Suitable for Prenatal Students:
These classes will incorporate some strengthening, stretching and restorative yoga. Perfect for prenatal, post-natal, and for improving the female function.
Please let the teacher know before class that you are expecting so they can make the proper modifications.
Mon 5:00 Alignment
Mon 6:30 Restorative
Tues 4:30 Anusara/Hatha
Tues 7:30 Hatha
Wed 10:30am Stretch

Wed 4:30 Stretch
Wed 7:30 Yin
Thurs 4:30 , 6:00
Fri 4:30 Hatha
Fri 6:00 Restorative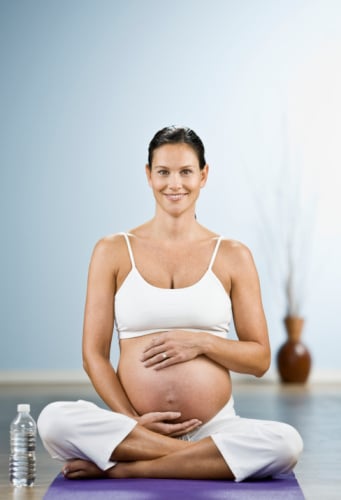 If you had an on-going yoga practice before the pregnancy and your pregnancy is healthy, then other mixed-level classes might be appropriate for you as well. Seek your doctor's approval prior to starting a yoga practice.
Always inform your teacher about your pregnancy before the class.