Amazing Tao is Back!
Only 2 Workshops!
October 22nd, 2011
Gentle @ 12PM-2PM
Intermediate @ 2:30PM-5PM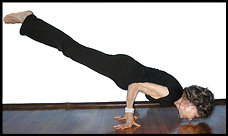 Extraordinary leaders and teachers change the way we perceive the world. The very best lead us by their example. Tao Porchon-Lynch, Master Yoga teacher, 93 years young, synthesizes the most positive aspects of Indian, European and American thought. Tao is uniquely equipped to spread yogic insights, originating in India, to westerners seeking enlightenment.
Tao has over 70 years of yoga practice and more than 45 years of teaching yoga to students in India, France, and the US. She includes in her current life's incarnations: championship ballroom dancer, wine connoisseur, actress, French resistance fighter, model, screenwriter, producer—the list goes on. She has trained and certified hundreds of yoga instructors, since founding the Westchester Institute of Yoga (NY) in 1982. Tao is truly living proof of the effectiveness of a life-long yoga practice. Her presence and words inspire deep compassion and inner peace.
These workshops will be interlaced with inspiring life stories from her childhood in India and her years of study with many of India's Yoga masters, including: BKS Iyengar, Mataji Indra Devi, and Swami Prabhavananda. Her presence and words inspire deep compassion and inner peace. Tao encourages questions and welcomes students who are interested in experiencing her wisdom and joy for life.
For more information about Tao, go to www.taoporchonlynch.com, or just Google her name and be entertained by the listing of her life's accomplishments.
You can also read about her on my blog! at www.wayneyoga.blogspot.com
___________________________________________________________________
"Learn from a Yoga Master: Tapping into the Eternal Energy of Yoga" - Gentle Workshop - 12-2PM
Learn how to tap your own energy in a way that creates unity between breath, body, mind and spirit. An exploration of how the bhandas enhance a strong foundation in the body and mind through breath control will be explored. Tao will lead the students through a deeply absorbing meditation, inspiring deep compassion and inner peace.
Click here to sign up for the Gentle workshop with Tao
$40 by 9/22 $45 by 10/15 $55 thereafter
_____________________________________________________________
"Vinyasa: The Dance of Life" - Intermediate - 2:30-5PM
Become aware of the energy that invigorates your life.
Utilizing the various breathing technique of Pranayama you will learn how to control vital energy.
By using special hand positions known as Mudras, you will be able to channel the flow of energy throughout your being.
Engaging the body's Bhandas you can focus and store your energy.
Understanding the Chakra System will enable you to attain a working knowledge of your body's vital energy centers.
The workshop will end with a deeply absorbing meditation.
Click here to sign up for the Intermediate workshop with Tao
$45 by 9/22 $50 by 10/15 $60 thereafter